Properties for sale: 71 - 73 of 73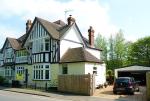 5 bedroom Character Property
£599,995
This is a beautifully maintained and presented, substantial Victorian semi-detached village house.
The house has an enormous amount of character features that have been retained but is further en...
Further info
3 bedroom Detached
£745,000
A beautifully presented 3 Bedroom Lions Green Cottage dating from 1929 and extended in 1939 by the Lions Green Company, with a further extension in the early 1970's. The extremely flexible and go...
Further info
5 bedroom Detached
£800,000
A superb and very spacious detached house built about 1935 and later extended in keeping with the original.
Rarely available, this is a lovely detached house with large rooms and the benefit of a...
Further info
Properties for sale: 71 - 73 of 73